The Parish Council consists of five members who each serve a term of 4 years. The most recent election was held in May 2021.
Current Councillors and Clerk are – Ian Davis (Chair), Rick Crane (Vice Chair), Frank Preston, Anne Davis and Robert Threadgold. The Clerk is Rebecca Barry.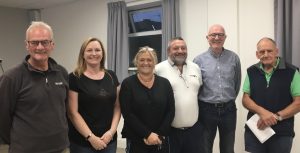 (Left to right: Rick Crane, Rebecca Barry, Anne Davis, Robert Threadgold, Ian Davis and Frank Preston.)
Newton and Biggin Parish Council Councillors and Clerk Contact Details

Councillor

Position

Telephone Number

Email address

Ian Davis
Chair
0785 554 4365
ian.davis1607@icloud.com

Rick Crane
Vice Chair
0759 533 8815
crane378@btinternet.com

Anne Davis
Councillor
0793 963 4227
northviewcottage@icloud.com

Robert Threadgold
Councillor
07799 888046

robbo2108@icloud.com

Frank Preston
Councillor
0178 886 0375
frankandro@btinternet.com

Rebecca Barry
Clerk & Responsible Financial Officer
07935 209451
clerk@newtonparishcouncil.org.uk or contact via Webpage
Representatives from Rugby Borough Council and Warwickshire County Council attend Parish Council Meetings. These are Rugby Borough Councillor Eve Hassell and Warwickshire County Councillor Adrian Warwick.
The Clerk to the Council is the only paid and permanent member of staff and is responsible for ensuring that the Council complies with law and standing orders on all matters relating to Finances, Statutory Compliance, Meetings, Minutes, Agendas, Members Interests, consultations, correspondence and the website.